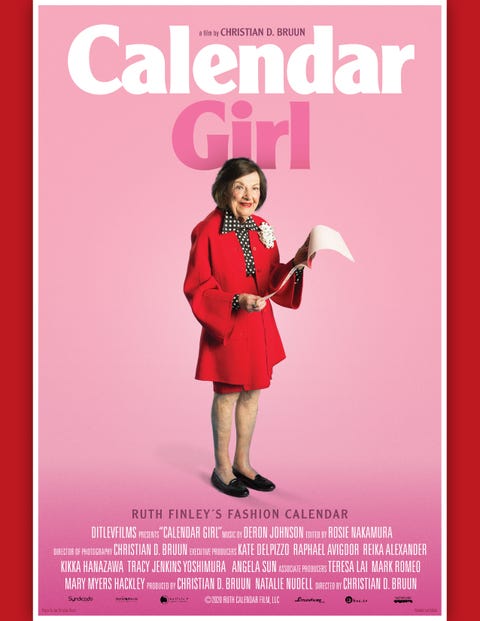 I would be the last one to know anything surrounding the fashion world; that does not mean that it does not offer a sense of intrigue. To my surprise and I am sure everyone else's is the undeniable fact that the mega fashion world situated in New York City was carried on the shoulders of a tiny woman in her 50's. Ruth Finley might be unknown in the main stream but in the fashion world she is considered royalty. In director Christian Bruun's film Calendar Girl we learn the story behind the fashion world's connection guru that helped organize and keep everyone in the know.
After being guided under the learning tree of fashion publicist Eleanor Lambert Ruth developed "The Fashion Calendar" in the early 1940's. The calendar, which was released to subscribers every week, was considered the fashion "bible" as it contained all the information for fashion shows and who to contact. Ruth was offering a service that people would have to work hours upon hours combing through numerous publications to even come close to and in an age before the internet was understandingly invaluable information. Not only that but Ruth was also the coordinator for the majority if not all the fashion shows in NYC; as she earned the reputation of being the one to go if you wanted to run a show.
What the film provides isn't only an insight to how important Ruth was to the fashion industry but also the strength this woman had. In a time when it was hard for women to make their own way not only did Ruth not stick to gender norms but she was a nonstop juggernaut; making the rounds and keeping up with everything and everyone well into her 90's. Ruth truly deserves all the recognition she has received not only in the fashion world but also as being an empowered woman that never stopped living for what she loved.
Rating:
3 out of 5
Follow the Film: