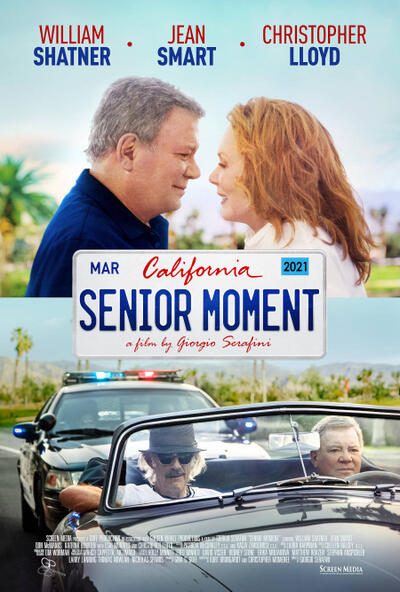 Age is just a number they say; still young in the mind and soul is what keeps you going. Growing older does not necessarily mean to fade away it just means there are more opportunities and adventures to be had. Suffice it to say that is easier said than done but that does not stop some seniors from being a tad rambunctious. Films like Grumpy Old Men, As Good as it Gets, Something's Gotta Give and The Bucket List are just a few to capture seniors at their most jovial and romantic. The newest addition to this genre is Senior Moment starring William Shatner (Star Trek), Christopher Lloyd (Back to the Future) and Jean Smart (Legion) directed by Giorgio Serafini. The film follows Victor, played by Shatner, whom has seemingly hit the wall and stumped on what to do next after his driver license is revoked and his beloved car is impounded.
Victor realizes he is at a crossroads where his immature, young and free attitude just doesn't "cut" it anymore; a point he along with his friends all know is true but reluctant to accept. The film has scattered moments of Victor doing ridiculous things like drag racing, trying to steal back his car and spying on his love interest Caroline, played by Smart, but the real story falls on his budding romance with Caroline. The two meet completely at random and their relationship plays out like others in these "romcom" situations but if it were not for both Shatner and Smart this movie would not have a pulse. The story overall is generic but it is the performance by both actors that gives the film any substance as each play off the other so effortlessly. Unfortunately as aforementioned the plot is forgettable with loosely tied storylines seeming more like an episodic show rather than a film.
I feel Serafini relied too much on overplayed situations and instead could have focused more on Victor's friendship with Sal, played by Lloyd, a missed opportunity in my opinion as Lloyd's character is very minimal. Along with the slow burn of Victor and Caroline getting together this could have been a different film altogether. Although it may seem to be a rinse and repeat, I do not see myself turning it off on an easy, breezy lazy day.
Rating:
2.5 out of 5
Film will be released Friday March 26th in theaters & VOD via iTunes & FandangoNOW